Nutraceutical Product Integrity
Trust through Transparency
Pharma Natural
The State-of-the-Science in Natural Health Solutions
By the leaders and staff of Pharma Natural's Natural Health Sciences Research & Development Laboratory
Transparency
Transparency is defined as "the quality of being done in an open way without secrets". In the dietary supplement industry, transparency refers to increasing awareness of issues relating to supplement quality and business operations. This includes providing information regarding the quality of supplements, including ingredient sourcing product manufacturing, allergen claims, excipient content (inactive ingredients), storage, and distribution.
Why is quality important for supplements?
Quality control for supplements is crucial as they help keep people healthy! If supplements are not manufactured and resold under quality supervision, they can end up with expired ingredients, cross-contamination, improper labels, and other severe issues that can risk consumers' health.
Dietary supplements and wellness products are approached differently than pharmaceuticals. In the United States, the Food and Drug Administration (FDA) oversees the regulations and practices for supplements and natural wellness products. The importance of assessing products helps establish Good Manufacturing Practices (GMPs), also sometimes referred to as cGMP, where the 'c' stands for 'current'. The Current Good Manufacturing Practice (cGMP). The standards look at the identity, purity, strength, and composition of each product that is manufactured.
Good Manufacturing Practices (GMPs) / Current Good Manufacturing Practice (cGMP)
GMP regulations require a quality approach to manufacturing, enabling companies to minimize or eliminate instances of contamination, mix-ups, and errors. This protects the consumer from purchasing a product which is not effective or even dangerous. Failure of firms to comply with GMP regulations can result in very serious consequences including recall, seizure, fines, and jail time. GMP regulations address issues including record keeping, personnel qualifications, sanitation, cleanliness, equipment verification, process validation, and complaint handling. Most GMP requirements are very general and open-ended, allowing each manufacturer to decide individually how to best implement the necessary controls. This provides much flexibility, but also requires that the manufacturer interpret the requirements in a manner which makes sense for each individual business. GMP is also sometimes referred to as "cGMP". The "c" stands for "current," reminding manufacturers that they must employ technologies and systems which are up-to-date in order to comply with the regulation. Systems and equipment used to prevent contamination, mix-ups, and errors, which may have been first-rate 20 years ago may be less than adequate by current standards. The FDA developed cGMPs to ensure supplements are produced in a consistent manner and meet quality and safety standards.
Not All Health Supplements Are Quality Products
Because Most Supplements are Mass Produced and Not All Brands are Committed to Product Quality

For example, the U.S. multivitamin market is made up of several highly competitive brands. Although private label multivitamins generated the highest level of sales in 2019, at around 315 million U.S. dollars; Bausch & Lomb Preservision and Centrum Silver are the top selling name brand multivitamins, with sales of 194.7 million
U.S. dollars, and 164.5 million U.S. dollars, respectively. In the 52 weeks ending July 14, 2019, U.S. sales of private label multi-vitamins amounted to about 321 million U.S. dollars.
SOURCE: https://statita.com
Do you know who Manufactures the Brands of Health Supplement you use?
Millions of Americans routinely consume dietary supplements, making it into a billion dollar industry. However, despite their vast popularity among adults of all ages, the level of scientific rigor supporting claims made is highly variable. While dietary supplements can be beneficial in many cases, we must be cautious about the quality of science behind them. Consumer-directed industries, such as dietary supplement, heavily rely on marketing tools to sway consumer opinion. In an industry regulated as dietary supplements is, critical review of each product is essential.
Dietary supplements, if used prudently, may be of substantial significance in healthy living. Current state of regulation in the United States of the dietary supplement industry allows products to rapidly come to the market.
Premarket scrutiny is limited. Reliance on product advertisement may be misleading and may pose significant health risks in some conditions. Consumers must, therefore, seek professional opinion as they make decision on the choice of dietary supplements. The US government and several other credible institutions provide valuable tools that may be used to evaluate the level of evidence behind any given dietary supplement. The benefits of dietary supplementation may be maximized by the exercise of due diligence by consumers.
SOURCE: Nandini Ghosh Chandan K.Sen in Nutrition and Enhanced Sports Performance (Second Edition), 2019
https://www.sciencedirect.com/science/article/pii/B9780128139226000667
Pharma Natural Share's the U.S. National Institute of Health, Office of Dietary Supplements
Mission: Strengthening Knowledge and Understanding of Dietary Supplements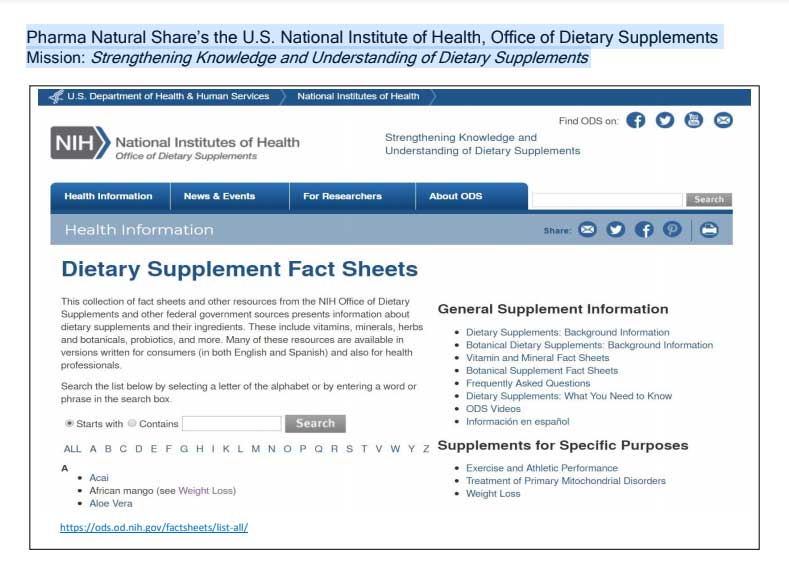 About Pharma Natural and its Natural Health Sciences Research & Development Laboratory
PHARMA NATURAL IS A FULLY INTEGRATED MANUFACTURER OF FINE, ALL-NATURAL
NUTRICEUTICALS AND ENGINEERED BODY MANAGEMENT PRODUCTS DRIVEN BY STATE-OF-THE-
SCIENCE TECHNOLOGY
Established in 2002, Pharma Natural is licensed and registered with the Food & Drug Administration (FDA).
Since its inception the Company has operated in compliance with FDA 21 CFR 111 – CURRENT GOOD
MANUFACTURING PRACTICE IN MANUFACTURING, PACKAGING, LABELING, OR HOLDING
OPERATIONS FOR DIETARY SUPPLEMENTS, and the Quality Standard

Natural Health Sciences
Pharma Natural Health Sciences is dedicated to the improvement of human health based on scientific research through the application of such research in the nutriceutical products we manufacture. Our Health Sciences team employs a multi-disciplinary approach of applied natural sciences, engineering and technology to our domain, Nutrition, which is the science that interprets the interaction of nutrients and other substances in food in relation to maintenance, growth, reproduction, health and disease in human beings. It includes absorption, assimilation, catabolism, biosynthesis, and excretion.
PNHS is particularly concerned with Under-nutrition, or Inadequate Nutrition, a form of malnutrition resulting from lack of the necessary foods or failure of the body to absorb or assimilate nutrients properly, and Metabolic Syndrome, defined as the presence of at least three of the five following medical conditions: abdominal obesity, high blood pressure, high blood sugar, high serum triglycerides and low high-density lipoprotein (HDL) levels. PNHS is also a leader in the field of research and development of nutriceuticals that contribute and otherwise support optimal physical performance, sometimes referred to as Sports Performance, Anti-Aging and Immune Response.

With the COVID-19 global pandemic affecting everyone in some way for months to come, we are all wondering what we can do to stay healthy. Nutrition is a critical determinant of immune responses and malnutrition is the most common cause of immunodeficiency worldwide. Deficiency of single nutrients also results in altered immune responses: this is observed even when the deficiency state is relatively mild. Of the micronutrients, zinc; selenium; iron; copper; vitamins A, C, E, and B-6; and folic acid have important influences on immune responses.
https://www.ncbi.nlm.nih.gov/pubmed/9250133
Pharma Natural's Natural Health Sciences Laboratory has formulated 9 All-Natural Special Products for this time when the human immune system is under attack.
 
For Adults
COMPLETE Multivitamin & Minerals
Vitamin C 1500mg
Vitamin D3 10,000iu
Zinc 100mg
Echinacea 300 mg
Probiotics 10B cfu
Kid's Multivitamin & Minerals (Liquid)
Omega 3-6-9 for Kids (Liquid)
Immune C Vitamin C (Liquid)
These statements have not been evaluated by the Food and Drug Administration (FDA). This product has not been evaluated by the FDA. It is not intended to diagnose, treat, cure or prevent any disease.
COVID-19 could become seasonal
Why are men more susceptible to COVID-19?
Social distancing measures
Vitamin D supplementation
Our Immune System vs COVID-19
Protecting Our Children vs COVID-19
Most Comprehensive, Real-Time COVID-19 Data