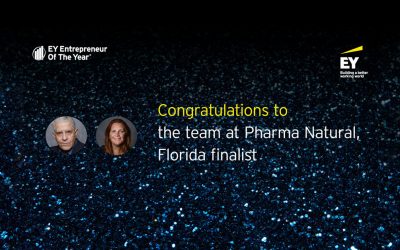 EY Announces Carlos Ferreiro and Carolina Ferreiro-Diaz of Pharma Natural as Entrepreneur Of The Year® 2021 Florida Award Finalists  Celebrating the 35th class of unstoppable entrepreneurs who transform Florida and beyond Miami Lakes, FL, June 11, 2021 – Ernst &...
read more
Let's Start Something new

Say Hello!
Natural Health Sciences
Pharma Natural Health Sciences is dedicated to the improvement of human health based on scientific research through the application of such research in the nutriceutical products we manufacture. Our Health Sciences team employs a multi-disciplinary approach of applied natural sciences, engineering and technology to our domain, Nutrition, which is the science that interprets the interaction of nutrients and other substances in food in relation to maintenance, growth, reproduction, health and disease in human beings. It includes absorption, assimilation, catabolism, biosynthesis, and excretion.
PNHS is particularly concerned with Under-nutrition, or Inadequate Nutrition, a form of malnutrition resulting from lack of the necessary foods or failure of the body to absorb or assimilate nutrients properly, and Metabolic Syndrome, defined as the presence of at least three of the five following medical conditions: abdominal obesity, high blood pressure, high blood sugar, high serum triglycerides and low high-density lipoprotein (HDL) levels. PNHS is also a leader in the field of research and development of nutriceuticals that contribute and otherwise support optimal physical performance, sometimes referred to as Sports Performance, Anti-Aging and Immune Response.

With the COVID-19 global pandemic affecting everyone in some way for months to come, we are all wondering what we can do to stay healthy. Nutrition is a critical determinant of immune responses and malnutrition is the most common cause of immunodeficiency worldwide. Deficiency of single nutrients also results in altered immune responses: this is observed even when the deficiency state is relatively mild. Of the micronutrients, zinc; selenium; iron; copper; vitamins A, C, E, and B-6; and folic acid have important influences on immune responses.
https://www.ncbi.nlm.nih.gov/pubmed/9250133
Pharma Natural's Natural Health Sciences Laboratory has formulated 9 All-Natural Special Products for this time when the human immune system is under attack.
 
For Adults
COMPLETE Multivitamin & Minerals
Vitamin C 1500mg
Vitamin D3 10,000iu
Zinc 100mg
Echinacea 300 mg
Probiotics 10B cfu
Kid's Multivitamin & Minerals (Liquid)
Omega 3-6-9 for Kids (Liquid)
Immune C Vitamin C (Liquid)
These statements have not been evaluated by the Food and Drug Administration (FDA). This product has not been evaluated by the FDA. It is not intended to diagnose, treat, cure or prevent any disease.
COVID-19 could become seasonal
Why are men more susceptible to COVID-19?
Social distancing measures
Vitamin D supplementation
Our Immune System vs COVID-19
Protecting Our Children vs COVID-19
Most Comprehensive, Real-Time COVID-19 Data